Roundtable dialogue on 'Development Thoughts and Way forward' with Development Partners and NGOs/CSOs.
21 March 2023, a round table dialogue titled, 'Development Thoughts and Way forward' was held with the Development Partners and the NGO leaders Organized by ADAB (Association of Development Agencies in Bangladesh in the capital. Presided by the ADAB Chairperson, Abdul Matin, the meeting was held at the conference room of the NGO Affairs Bureau. Sheikh Md. Moniruzzaman, Director General of the NGO Affairs Bureau was present there as the Chief Guest.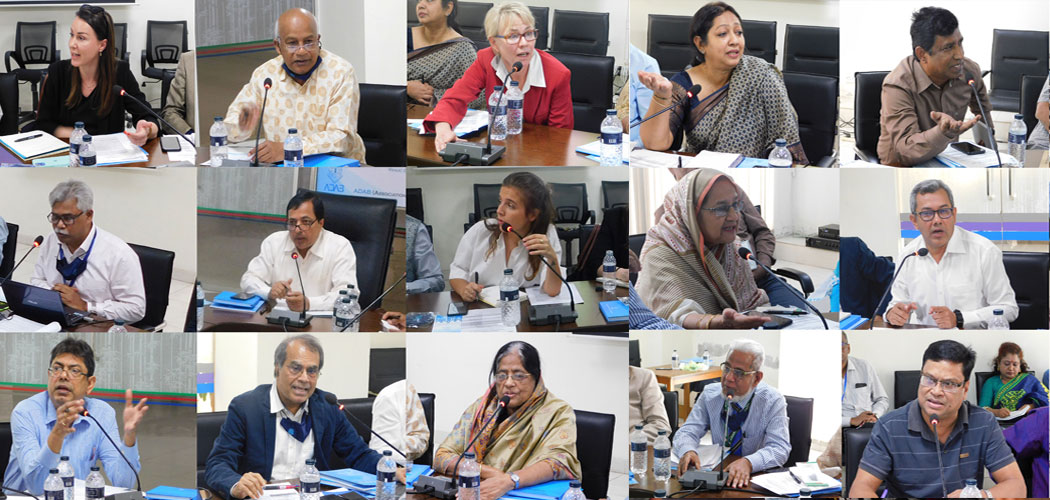 Tapan Kumar Biswas, Director of NGO Affairs Bureau, and Bir Muktijoddha Majeda Shawkat Ali, ADAB Vice-Chairperson attended the event as the Guests of honor. The discussion mainly focused on the present funding situation for the NGOs in Bangladesh. The contribution of Non-Government Organizations to socio-economic development as well as country development was got a priority in the discussion also. In the context of country graduation to the less middle-income country, the participants opined their ideas and views regarding the challenges, the Covid-19 pandemic, economic recession, wars, and conflicts as well as the necessity of the cooperation of donor organizations to continue the development initiatives.
In the presentation, ADAB Director has given importance on the donor's commitment to localization like The Grand Bargain, Charter for Change, and the Principles of partnership. ADAB requested Development Partners to facilitate disbursing funds to Non-Government Organizations working at the grassroots level. They expressed that local Non-Government Organizations have been making significant contributions to the respective regions' socioeconomic development and disaster management. The NGO leaders urge for a comprehensive funding strategy of the donor for channelizing funds to the local NGOs/CSOs and seek a respectful partnership with the donors rather than subcontractors or vendors. The development partners emphasized capacity enhancement, strengthening the internal management, transparency, and good governance of NGOs in order to survive in the fundraising competition.
Among Development Partners, representatives from the United Nations, European Union, USAID, the Embassy of Switzerland, the Embassy of Sweden, The Asia Foundation, Oxfam International, Plan International, MSF, and ICNL were present at the round table dialogue.